Laser Hair Removal Specialist in Fairfax, VA
Say good-bye to waxing and shaving for good! The laser hair removal offered at Victoria Plastic Surgery Center in Fairfax VA will leave your skin smoother for longer. For more information, please contact us or

book an appointment

online. We are conveniently located at

8503 Arlington Blvd #130 Fairfax, VA 22031

.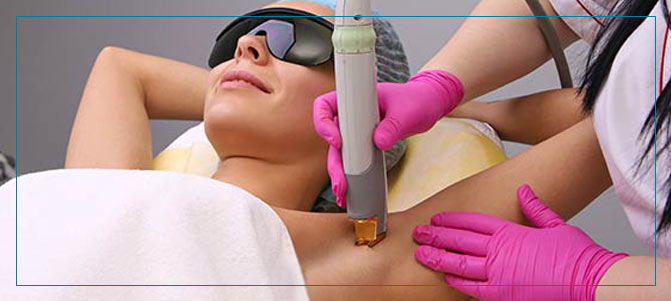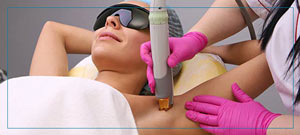 Table of Contents:
How permanent is laser hair removal?
How many sessions do I need for laser hair removal?
How does laser hair removal work?
What are the benefits of laser hair removal?
We are all familiar with the horrors of shaving—razor burn, ingrown hairs and prickly regrowth—only to have new hair grow back within a week, or even just a few days. Laser hair removal is the perfect solution to this predicament, without the pain or restrictions of waxing and sugaring. Laser hair removal physically damages the hair follicles, rendering them unable to produce new hair.
How permanent is laser hair removal?

Laser hair removal is permanent when the hair follicle is destroyed, thereby eliminating potential regrowth. Unless the hair follicle is completely destroyed, the hair will eventually regrow, even if it is damaged. The amount of time it takes for the hair to regrow depends on the individual's unique hair growth cycle, which greatly varies from person to person. Hair that is in a resting phase will grow back more slowly than hair that is in an active growing phase. After receiving laser hair removal, most people can expect some hair regrowth within a few months. Once they experience new hair growth, they can return for more laser hair removal treatments.
How many sessions do I need for laser hair removal?

The amount of sessions required for laser hair removal varies from person to person and depends upon a number of factors, including desired results, amount of hair growth, density of hair growth, and skin tone/hair color. In general, approximately four to seven treatment sessions are needed to get the full results from laser hair removal. The back, thighs, legs and other larger areas will take longer to complete but still should not take more than an hour. This means that a significant amount of time is not required to commit to laser hair removal treatments.
How does laser hair removal work?

Laser hair removal uses light to target the color of individual hairs which then travels down the shaft of the hair and into the hair follicle. The heat from the laser light destroys the hair follicle, and once it has been destroyed, hair can no longer grow from it. Hair follows a unique growth cycle that involves periods of rest, shedding, and growth. For most people, laser hair removal requires multiple treatments over the course of two to three months in order to produce desired results.
What are the benefits of laser hair removal?

The many benefits of laser hair removal include:

Helps Avoid Ingrown Hairs — Shaving is notorious for producing the uncomfortable sensation of razor burn and ingrown hairs, which can deter people from removing hair altogether. Thankfully, laser hair removal avoids this completely, and when hair regrowth occurs, does not produce prickly strands of great annoyance.

Leaves Skin Softer Than Before — On top of avoiding ingrown hairs, skin feels softer to the touch because it does not leave behind stray hairs or stubble. And when hair does grow back, it comes in thinner and softer than before.

Leaves No Scars Or Painful Side Effects — This noninvasive treatment does not require downtime or produce painful side effects. However, temporary redness may occur.

Provides Long-Lasting Results — As the hair follicles become destroyed, they no longer produce new hair growth. Laser hair removal can achieve this within multiple sessions, and requires visits less frequently the more treatments that are performed.

Allows Shaving between Sessions — Unlike waxing and sugaring which require a certain amount of hair growth to be successful, laser hair removal does not. Actually, shaving is often encouraged as it can make the treatment more effective.

If you are tired of shaving and the pains that accompany it, come to Victoria Plastic Surgery Center for our laser hair removal treatment today! Our kind and compassionate professionals are experienced providers of laser hair removal and can help you achieve smoother, softer skin. Call us today to book an appointment. We look forward to serving you! Visit us today at 8503 Arlington Blvd #130 Fairfax, VA 22031, or call us for more information. We serve patients from in Fairfax VA, Alexandria VA, Washington VA, Reston VA, Annandale VA, and Manassas VA.