Obagi Blue Peel Questions and Answers
Obagi blue peel can rejuvenate areas of the face, neck, chest, hands and arms, and is available for use on all skin colors and textures. Victoria Plastic Surgery Center offers obagi blue peel in Fairfax VA and surrounding areas. Call today for more information or book an appointment online. Visit us today at 8503 Arlington Blvd #130 Fairfax, VA 22031.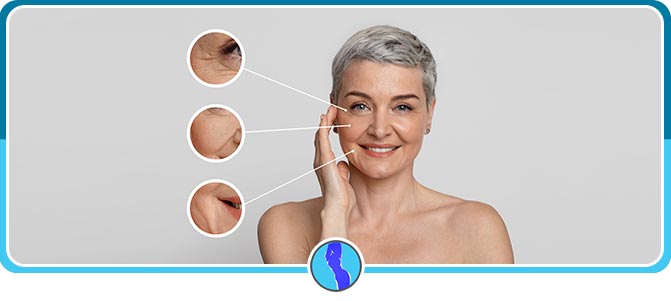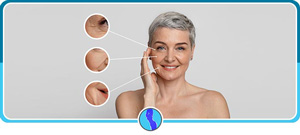 If you feel blue about wrinkles and fine lines or other skin issues, we have a great solution! The obagi blue peel can get rid of those blues through a triple acid action solution applied to your skin. While the solution will literally—and temporarily!—cast a blue tinge to your skin, your skin will appear smooth, bright, and fresh once the blue is washed away.
What is obagi blue peel?
Obagi blue peel treatment is a unique and innovative type of chemical peel known as a triple acid facial peel that provides superior rejuvenation to your skin and complexion. Obagi blue peel is approved by the U.S. Food and Drug Administration (FDA) for use on the arms, chest, face, hands, legs, neck, and various other areas of the body.
How does obagi blue peel treatment work?
Obagi blue peel treatment works through the triple action of the three acids contained within the solution, which includes glycolic acid, lactic acid, and salicylic acid.
Glycolic acid breaks down the bonds between the skin cells on the surface layers of skin, which effectively eliminates dead skin cells to reveal a brighter complexion in the treatment area. Lactic acid increases cell turnover to ensure the replacement layer of skin is firm, thick, and smooth. Salicylic acid combines the work of both glycolic and lactic acid while also reducing inflammation to help with the healing process.
In this way, the obagi blue peel treatment brightens your complexion, smooths out wrinkles and fine lines, tightens skin, and enhances volume.
What are the benefits of obagi blue peel treatment?
The obagi blue treatment can provide you with numerous benefits! In addition to those already mentioned, some other benefits of the obagi blue peel treatment are as follows:
Balances uneven skin tone and texture
Helps with skin laxity
Improves the appearance of acne scars and other types of scarring
Lightens pigmentation issues, such as melasma
Provides more durable and noticeable results than other chemical peel treatments
Reduces unwanted freckles or pockmarks
Shrinks enlarged pores
Minimal downtime or recovery period required
What can I expect during and after treatment?
The procedure for obagi blue peel treatment is fairly straightforward. The first thing to happen is that your provider will cleanse the skin in the treatment area, removing any grease, oil, or debris as necessary. Then, the obagi blue peel solution will be evenly applied to the skin in the treatment area and left on for a few minutes to allow the acids to soak into and exfoliate the skin. You will likely feel a burning sensation during this time, but it is temporary and should not cause significant pain. If you wish, you can have a topical numbing cream applied to minimize discomfort. The obagi blue peel solution is applied in one to four layers, depending on the extent of treatment you require. Your provider will wait two to three minutes in between the application of each layer.
After obagi blue peel treatment, your skin will have a slightly bluish tint that will wash off within 12 to 24 hours. Your skin will begin to peel within two to three days as the dead skin cells make room for the new layer of skin. This peeling should not disrupt your day-to-day routine.
Victoria Plastic Surgery Center is proud to provide obagi blue peel treatment services! If you would like more information about this treatment, call us or book an appointment online. We are located and easy to find at 8503 Arlington Blvd #130, Fairfax VA, 22031. We serve clients from Fairfax VA, Alexandria VA, Washington VA, Reston VA, Annandale VA, and Manassas VA.