Chemical Peels Specialist in Fairfax VA
Are you looking for a solution to help fight your acne, scarring, fine lines, and wrinkles? Look no further than our chemical peel treatment at Victoria Plastic Surgery Center! For more information,

call us

today or book an appointment online. Visit us today at

8503 Arlington Blvd #130 Fairfax, VA 22031

.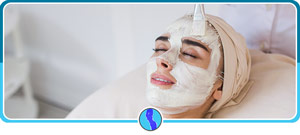 Table of Contents:
What is a chemical peel?
How long does chemical peel last?
How long does it take to see results from a chemical peel?
What are the benefits of a chemical peel?
What is a chemical peel?

Chemical peel facials are a treatment in which a chemical solution is applied to your face to remove the top layer. The skin then grows back smoother.

Chemical peels are used to treat wrinkles, discolored skin, and scars which are usually found on the face. Chemical peels can be done alone as a facial in itself or combined with other cosmetic procedures. Chemical peels offer a more dramatic result but can also take a bit longer to recover from than other facial treatments.

Talk to one of our specialized aestheticians today about our chemical peels and if they would be beneficial to you.
How long does a chemical peel last?

You may have tried a prescription cream for your acne or wrinkles and found they do nothing to help. If you are sick of the over-the-counter products doing nothing but causing you frustration and spending money, chemical peels might be for you.

The results from chemical peels differ from each client however most results from chemical peels can last anywhere from one month to the rest of your life. The longevity of a chemical peel treatment results depends on several factors, but the most significant factor is the strength of the peel the aesthetician uses.

A light or superficial peel can produce results that last between one to two months. A medium peel can produce results that last between two and six months and the results of a deep chemical peel can last forever.

The aesthetician will go over which chemical peel level will be right for you and your skin during your consultation appointment with them.
How long does it take to see results from a chemical peel?

A few things to expect after a chemical peel treatment:

1. One treatment is good, but multiple yield maximum results

Not everyone will achieve the results they want after one treatment; it usually can take several treatment sessions to see the maximum results you want.

2. Skip make up for a bit after the treatment

For the first week or two, do not wear makeup. Let your skin run through the peeling process to get the most out of our chemical peel treatment.

3. Adjust your skincare routine after

Talk to our doctors after the chemical peel treatments to see what skincare routine you may need to change to benefit your results.

4. Always apply sunscreen

Sunscreen is a must every day as it protects your skin from harmful UV rays. After a chemical peel treatment, your skin is more sensitive to damage than it was previously.

5. Avoid high temperatures and overexertion

To fight potential side effects like redness, tingling, and post-inflammatory hyperpigmentation, keep your skin cool.

6. You may break out with a bit of acne

The combination of a larger amount of dead skin and inflammation from the treatment can lead to acne, however, it won't last long and your results should be incredible after.

7. Be patient – results take time

Chemical peel treatments do not provide overnight results, it takes time for your skin to accumulate.
What are the benefits of a chemical peel?

Some of the top benefits yielded from a chemical peel treatment are:

1. Clears Acne
2. Minimizes Pores
3. Erases Fine Lines and Wrinkles
4. Fades Discoloration
5. Lifts Skin
6. Soothes Scarring
7. Balances the texture of your skin
8. Smooths your skin
9. Offers a non-invasive treatment

Are you interested in what a chemical peel treatment could do to benefit your skin? Call us for more information or book an appointment to go over if a chemical peel treatment would be right for you! Visit us today at 8503 Arlington Blvd #130 Fairfax, VA 22031. We look forward to serving you! We serve clients from Fairfax VA, Alexandria VA, Washington VA, Reston VA, Annandale VA, and Manassas VA.